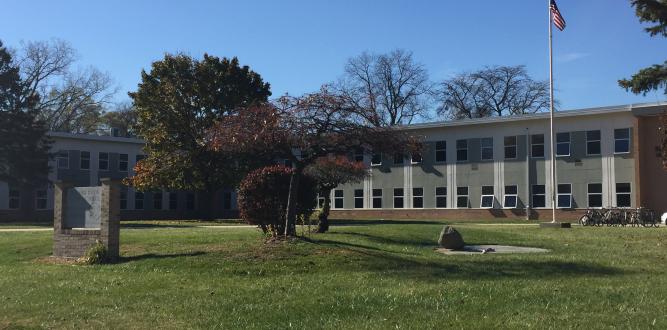 Welcome to Redford Union High School
WELCOME TO REDFORD UNION HIGH SCHOOL
OUR MISSION
The Redford Union High School staff is committed to motivating all students to reach their potential by providing a safe, positive and challenging learning environment.
---
We are looking forward to a great year with many exciting events! To begin the 2019-2020 school year we will be having registration during the following days and times:
Wednesday, August 28th 8:00 A.M. - 10:30 A.M. Senior Registration
Wednesday, August 28th 12:00 P.M. - 2:30 P.M. Junior Registration
Thursday, August 29th 8:00 A.M. - 10:30 A.M. Sophomore Registration
Thursday, August 29th 12:00 P.M. - 2:30 P.M. Freshman Registration
THursday, August 29th 4:30 P.M. - 7:00 P.M. Make-Up Registration
We look forward to seeing you.
---
Free Bus Tracker App
Redford Union Schools is pleased to announce we now have a Free Bus Tracker App available to all Parents and Guardians to track your child's bus.

It's easy to download and use just go to Google Play or Apple Store and download the "Durham Bus Tracker" app for free. Follow the simple directions and you will be tracking im minutes it's that easy.

You will need your child's ID number before downloading the free app; which can be attained from past or upcoming Report Cards and Progress Reports.
Click here for more information.
---
School Day is 7:15 am - 2:15 pm
Half Day is 7:15 am - 10:40 am
Dates are subject to change. Please check back regularly.
Enrollment
Welcome to Redford Union High School.
Please remember if you are new to the district you must enroll your student at our Board of Education Administrative Offices (Located at the Keeler School Building) (6 Blocks East of Beech/2 Blocks North of Six Mile) 17715 BRADY, REDFORD 48240 313-242-6000, before they can register at the high school. Once you are enrolled you will need to make an appointment with a counselor at the high school to schedule classes.
Student ID's
Every student will be issued a free ID. Students are required to have their ID with them everyday. Id is required for lunch purchase. If they lose, or forget their ID they must purchase a new one for $5. The fee will be added to their fee and fines account if they cannot pay that day.
Credit Recovery Winter 2019
After school credit recovery is available during the school year. There are two sessions, one starting in October and one starting in February. Registration for winter has already begun. If you need to make up credits please meet with your counselor soon to enroll in Credit Recovery. First come first serve, don't delay in signing up.

Click here for information.
Redford Union High School
17711 Kinloch
Redford, MI 48240
Main Office: (313) 242-4200
Fax: (313) 242-4205
Counseling - Carol Harris
(313) 242-4380
Attendance Line
(313) 242-4210 please report all absences.
Athletic Office
(313) 242-4271