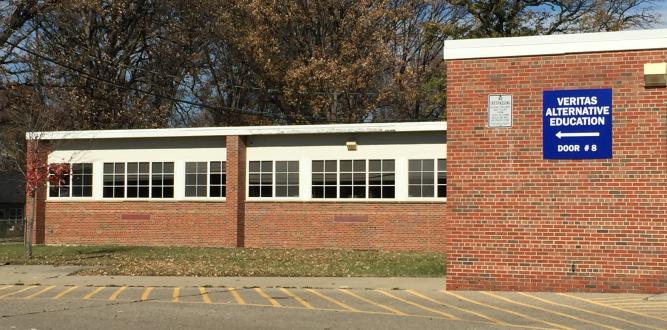 End of the Year Forms and Surveys
Grade Change Request Form
Due to the COVID 19 School Closures, it was decided that all high school students will receive a final semester 2 grade of either "P" (pass) or "E" (fail). Issuing a "P" or an "E" does not impact a student's GPA (grade point average) but will allow them to earn credit for a class if they receive a "P".
Any student wishing to have their "P" changed to their earned letter grade must submit their request on this form no later than June 19, 2020. Please remember, that a letter grade will affect your GPA. If you have any questions about your grade or these procedures, please contact Mrs. Jain .
You can fill out the form HERE.
Senior Exit Survey
Graduating Seniors, please fill out the Veritas Senior exit survey here.
Coronavirus Closure Information
Governor Gretchen Whitmer and State Superintendent Michael Rice ordered the closure of all K-12 school buildings, public, private, and boarding, starting Monday, March 16 until Sunday, April 12th in order to slow the spread of (COVID-19) Coronavirus. We realize this is unprecedented, and will present many hardships for our families. This decision is to help us all stay safe. We want to provide as much support as possible to our families throughout this situation.
Academic: Here is some academic information for the three programs at Keeler:
1) Veritas – students continue to work online through the Edgenuity Program. If you do not have access to technology, we will make accommodations for you. Please contact Ms. Jain by texting her on her cell below. We will post specific updates on the district website and/or the Veritas Website at: https://www.redfordu.k12.mi.us/veritas/
2) Virtual Learning Program – students continue to work online through the Edgenuity Program. Contact your individual teacher for questions. All cell phone numbers are online on our website at: https://www.redfordu.k12.mi.us/virtual-learning/
3) Second Chance Program – students continue to work online through the Edgenuity Program. You can text Mrs. Schluter at the cell number below if you have any questions.
Emotional Support: Key tips from mental well-being experts:
• Sleep is the single most effective thing we can do to reset our brain and body health each day.
• Eat well: Nutrition is key to vitality. It promotes healthy brain development and function and
also helps to prevent disease.
• Keep hydrated: Water is essential to mental and physical health and performance.
• Talk: Communicate with your kids to help them handle the stress they may feel, but
may not know how to express except through behavior during this time of uncertainty.
Food Support: See Redford Union School District Website for this information. We will provide food to our students for both breakfast & lunch.

Thank you for being a valuable partner in our efforts to combat the spread of coronavirus (COVID-19). Together we will get through this because we are #RUStrong!

Mrs. Schluter, Ed.S., Director Ms. Katy Jain, Veritas Coordinator
Cell: (567) 280-0844 Cell: (313) 241-6402
Applications
Now accepting applications for Fall 2021 - Click here!
Veritas is Redford Union's alternative education program open to students from surrounding school districts. We are a learner-centered, student focused school that can offer:
Smaller classroom and building setting
Personalized support
Opportunity for accelerated credit
Free Credit Recovery classes
We are now accepting applications. Use the link below to access our new online application.
For more information, please call 313-242-3717 or email jaink@redfordu.k12.mi.us.
Veritas Application – Click here!
Summer Hours
Mrs. Jain and Mr. Neal do not have regular hours during the summer. Please feel free to email us or leave us a voicemail and we will return your call or email as soon as possible.
Mrs. Jain: Email is preferred -jaink@redfordu.k12.mi.us
Mr. Neal: Phone call/voicemail is preferred - 313-242-3717
Veritas High School
17715 Brady
Redford, MI 48240
Phone: 313-242-3720
Fax: 313-242-3705
Katy Jain
Phone: 313-242-3720

Send me a message
Cliff Neal
Phone: 313-242-3717

Send me a message