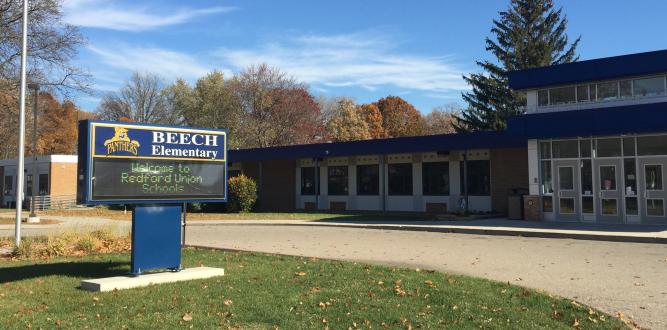 Mission Statement
We, the staff of Beech Elementary School, will provide the opportunity for all children to learn to their greatest potential. Life skills will be developed and enhanced through positive and cooperative efforts of students, parents and educators. We are committed to the maintenance of open and continuing communication. By ensuring a healthy and safe environment, conducive to learning, we will maximize the growth and development of each individual.

Sign Up for Remind
2nd grade - Type the message @h48e78 to the number 81010.
3rd grade - Type the message @agg732b to the number 81010.
4th grade - Type the message @ehhb9g to the number 81010.
5th grade - Type the message @k73kb6 to the number 81010.
There is no need to join all four grades. You only need to join the grade your child (children) is currently enrolled. Every grade will receive the same communications unless it is grade specific.
Beech Elementary Supply List
AS A REMINDER for the 2019- 2020 School Year...
Our doors open to students at 8:35 AM and school begins promptly at 8:45 AM.
On Half Days Students will be dismissed at 12:00 PM.
We are a LEADER IN ME SCHOOL! Remember the 7 Habits:
Art made by Beech Staff Members: Mrs. Glenn
Be PROACTIVE! (You are in charge!)

Begin with the End in Mind (Have a plan)

Put First Things First (Work first, Then play!)

Think Win-Win (Everyone can WIN!)

Seek First to Understand, Then to be Understood (Listen before you talk!)

Synergize (Together is better!)

Sharpen the Saw (Balance feels best!)
Robo Calls:
Attention Beech Parents: Beech utilizes an automated Robo Call system to distribute pertinent information. These calls will update you on important dates, events, and/or half days. Please make sure the front office has an updated phone number so that you receive our calls!
​Beech Elementary Student Pledge:​
Today I will do my best to be my best,
​I will practice responsibility,
​I will always be safe,
I will be respectful​,
and I will show my Panther Pride!
Calendar of Events
Calendar of Events

‹

December

2019

›

S
M
T
W
T
F
S
1
2
3
4
5
6
7
8
9

Dec 9

5:30 PM to 6:30 PM

Special School Board Meeting

Location:

Redford Union Schools, Board of Education Administration Offices, 17715 Brady St., Redford, MI 48240

Calendar:

District Calendar

Book Study - Building Equity

6:30 PM to 8:30 PM

Regular School Board Meeting

Location:

Redford Union Schools, Board of Education Administration Offices, 17715 Brady St., Redford, MI 48240

Calendar:

District Calendar

10
11
12
13
14
15
16
17
18
19
20
21
22
23
24
25
26
27
28
29
30
31
Barrington Irvin and STEM 2018-19
Contact Us
Beech Elementary
19990 Beech Daly Road
Redford MI 48240
Grades 2-5
Main Office 313.242.6100
Fax 313.242.6105
Attendance 313.242.6110
Office Staff
Principal - 313-242-6101
Assistant Principal - 313-242-6115
Secretary - 313-242-6111
Secretary - 313-242-6102
2019-2020 School Year
NEW School Hours
Full Day 8:45 AM - 3:45 PM
Half Day 8:45 AM - 12:00 PM


Home of the Beech Panthers
Friends of Beech Elementary Library
Beech Elementary Parent Club (Facebook Page)