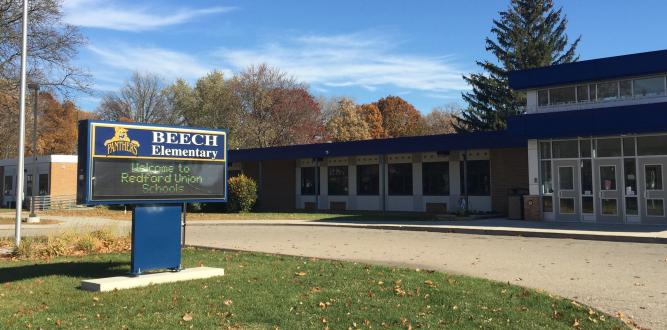 Welcome to Beech Elementary
We would like to welcome our new Principal, Ms. Melissa Nickel, to Beech Elementary! Please take a moment and read her weekly Beech Parent Newsletter, "The Buzz at Beech", found in the Beech Parent Newsletter tab to know all that is happening at Beech.
Return to Learning Planning - Beech Elementary
Thank you for choosing to send your child to Redford Union Schools! We know that last year had been challenging to say the very least. We appreciate your trust in us to provide the best education for your child. We are looking forward to an exciting new 2021- 2022 school year.
Mission Statement
We, the staff of Beech Elementary School, will provide the opportunity for all children to learn to their greatest potential. Life skills will be developed and enhanced through positive and cooperative efforts of students, parents and educators. We are committed to the maintenance of open and continuing communication. By ensuring a healthy and safe environment, conducive to learning, we will maximize the growth and development of each individual.

2021-2022 SCHOOL YEAR INFORMATION
Start Date: August 30th, 2021
Daily Start/End Time:
8:45am - 3:45pm Full Day
8:45am - 12:00pm Half Day
Upcoming Events at Beech...
Remember to read Ms. Nickel's weekly Parent Newsletter to get all the updates going on here at Beech!
ORDER YOUR YEARBOOK TODAY!
The order deadline is 4/22/2022
Cost of the Yearbook is $13.00
Yearbook ID code: 14644022
Order your yearbook for Beech Elementary School here!
April

1- Spring Break - School Building Closed/Central Office Open
4- School Resumes
11- Spring Picture Day
15- Good Friday- District Closed
18- Easter Monday- District Closed
29- No School for Students- District Wide Professional Development
May
5- 3rd Grade Mother's Day Concert- Facebook Live Event
11 - Facebook Live- Coffee with the Principal @9:30am
26- Family Engagement Event - Art Pour Class- (Flyers were sent home)
30- Memorial Day- District Closed
June
2 - 5th Grade TV or Radio Concert
3 - Facebook Live- Coffee with the Principal @ 9:30am
6 - Field Day
7- School-Wide Picnic- End of Year Celebration
9 - End of Year Honors Assemblies- AM
9 - 5th Grade Promotion Ceremony/Honors Assembly- PM
10- Last Day of School- 1/2 Day
2021-2022 Beech Elementary Suggested Supply List

AS A REMINDER for the 2021- 2022 School Year...
Please remember to check the Redford Union District Page for upcoming important information.
Calendar of Events
Calendar of Events

Previous

May

2022

Next

S
M
T
W
T
F
S
1
2
3
4
5
6
7
8
9

May 9

5:00 PM to 7:30 PM

Regular School Board Meeting

Location:

Redford Union Schools, Board of Education Administration Offices, 17715 Brady St., Redford, MI 48240

Calendar:

District Calendar

10
11
12
13
14
15
16
17
18
19
20
21
22
23
24
25
26
27
28
29
30
31
Robo Calls:
Attention Beech Parents: Beech utilizes an automated Robo Call system to distribute pertinent information. These calls will update you on important dates, events, and/or half days. Please make sure the front office has an updated phone number so that you receive our calls!
​Beech Elementary Student Pledge:​
Today I will do my best to be my best,
​I will practice responsibility,
​I will always be safe,
I will be respectful​,
and I will show my Panther Pride!
State Representative- Mary Cavanagh, visiting Beech Elementary April 2021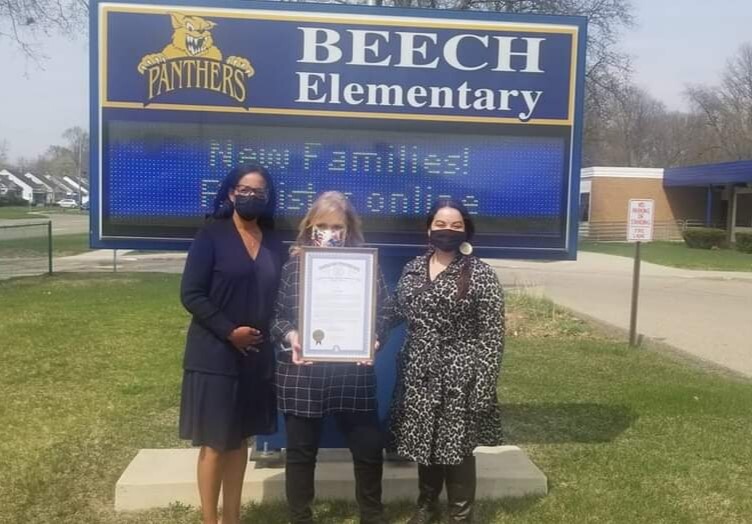 State Representative, Mary Cavanagh, presenting to Mrs. Lynn Meek, a tribute honoring her hard work and dedication teaching through the pandemic. Congratulations, Mrs. Meekl!
(pictured left to right: Koren Clinkscale, Lynn Meek, and Mary Cavanagh)
March is READING Month
"Oh, the Places You'll Go!, by Dr. Seuss
Barrington Irvin and STEM 2018-19
Contact Us
Beech Elementary
19990 Beech Daly Road
Redford MI 48240
Grades 2-5
Main Office 313.242.6100
Fax 313.242.6105
Attendance 313.242.6110
8:45 am - 3:45 pm -Full Day
8:45 am - 12:00 pm -Half Day
Principal
313-242-6101
Assistant Principal
313-242-6115
Secretary
313-242-6102 Main Office
Secretary
313-242-6111 Main Office
2021-2022 School Year
Office Hours
Monday- Friday 8:00 am- 4:30 pm

Home of the Beech Panthers
Friends of Beech Elementary Library
Beech Elementary Parent Club (Facebook Page)