About Redford Township District No.5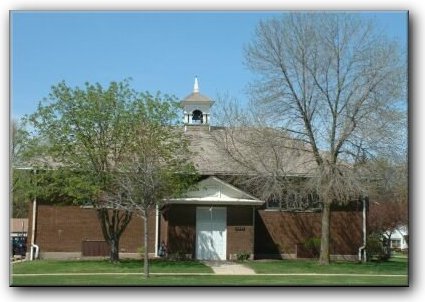 REDFORD TOWNSHIP DISTRICT No.5 SCHOOL
Three Redford Township District No.5 schools have stood on this property.
A log structure served students from around 1842 until the 1870s, when a wooden-frame school was constructed. The present structure, built sometime between 1916 and 1921, was erected according to stock plans provided free by the State Superintendent of Public Instruction who noted, "The modern rural building is planned to observe both hygienic needs and the conveniences of schoolroom administration."
Renamed Redford Union School District No.1 in 1923 and known popularly as the Beech Road School, this is a rare surviving example of a school that exhibits every detail of the State Superintendent's design, including the belfry and the simple decorative brickwork.

Bureau of Michigan History, Michigan Department of State
Registered Local site No.1991
Property of the State of Michigan. 1994

Nondiscrimination Clause
In compliance with Title VI of the Civil Rights Act of 1964, Title IX of the Education Amendments of 1972, Section 504 f the Rehabilitation Act of 1973, the Age Discrimination Act of 1975, the Americans with Disability Act of 1990, and the Elliott-Larsen Civil Rights Act of 1977, it is the policy of Redford Union Schools that no person shall on the basis of race, color, religion, national origin or ancestry, gender, age, disability, height, weight, or marital status be excluded from participation in, be denied the benefits of, or be subjected to discrimination during any program, activity, service or in employment.
For information contact:
Office of the Superintendent
17715 Brady, Redford, MI 48240 ~ 313-242-6000
Redford Union School District
17715 Brady Street
Redford MI 48240
(313) 242-6000
Fast Facts
The district's comprehensive educational program features:
• 1 K-1 Building - MacGowan Elementary
• 1 2-5 Building - Beech Elementary
• 1 Middle School - Hilbert Middle School
• 1 High School - Redford Union High School
• 2952 K-12 students
• Multiple foreign languages taught
• 6 advanced placement courses
• 1 television station