SENIOR STUDENTS AND PARENTS - Please click on the link below for our Spring Event calendar at RUHS.
NOTABLE DATES:
SENIOR NIGHT - Friday, May 14th from 4PM-8PM at Hilbert Middle School (outside on the football field). Contact Ms. Ureste or Ms. Ball for further details!
SENIOR CAP & GOWN PICKUP (pre-ordered) - Wednesday, May 26th from 12PM-2:00PM in the RUHS circle drive.
CLASS OF 2021 COMMENCEMENT - Wednesday, June 2nd at 7:00 PM at RUHS.
Rainout Date - Saturday, June 5th at 11AM at RUHS. Details coming soon!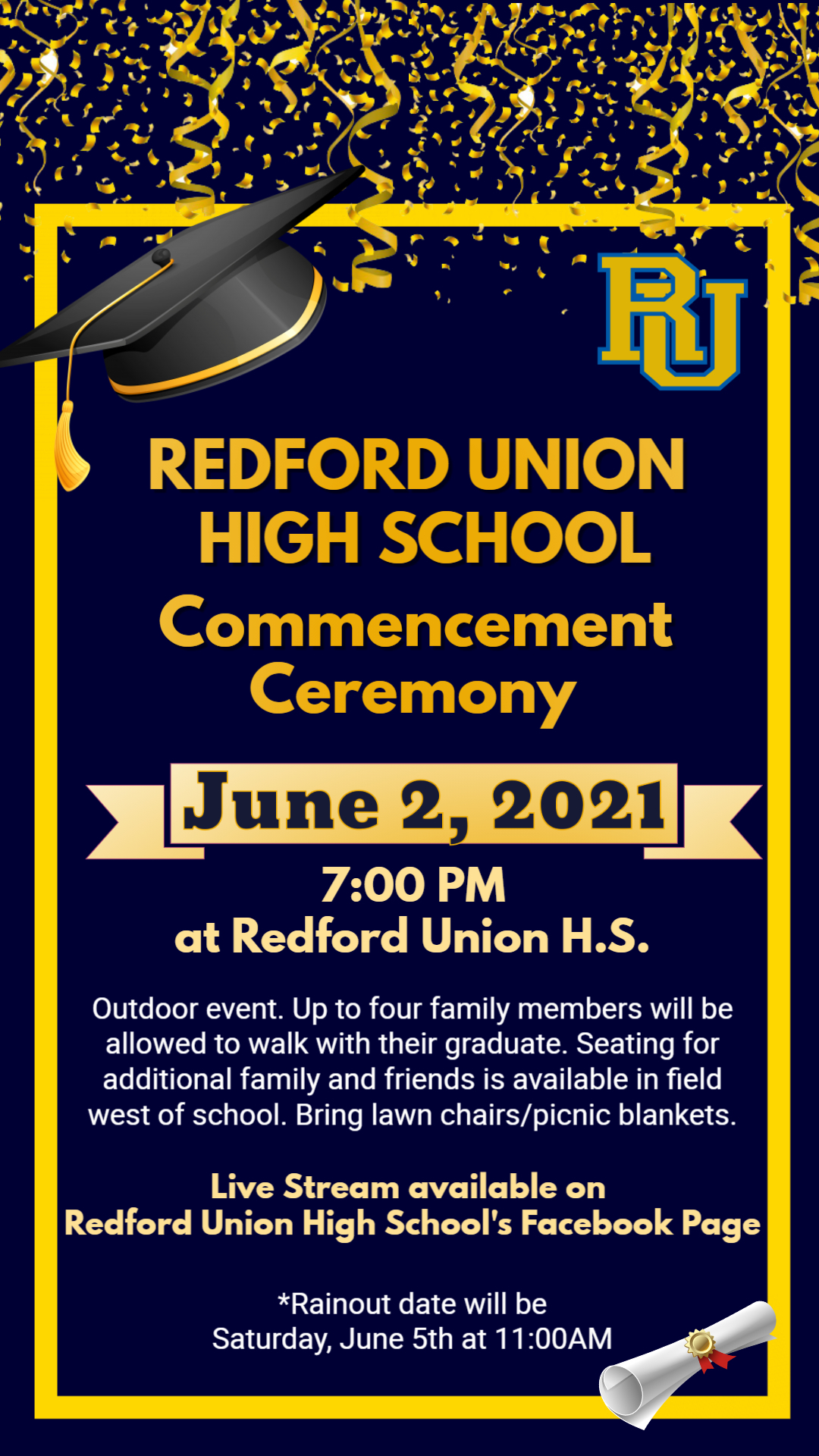 Seniors,
Congratulations, you've made it to Senior Year! We're Graduate Service Detroit - your local Herff Jones Office - a one stop shop for all things graduation and the exclusive provider of your ALL NEW Custom Redford Union Cap & Gown, Class Rings, Senior Jewelry & Varsity Jackets. We've mailed home your Senior Graduation Packets, so you should be receiving them soon.
We'll be open the following Saturdays to assist you in person for ordering your Class Rings, Necklaces & Varsity Jackets. Otherwise all orders can be placed:
Over the phone: 734.725.5743

SATURDAY ORDERING HOURS AT OUR SALES OFFICE IN CANTON:

NOVEMBER SATURDAYS: 11/7, 11/14, 11/21

DECEMBER SATURDAYS: 12/5, 12/12, 12/19

SATURDAY HOURS: 9AM-2PM

Please call ahead for an appointment to ensure social distancing & safety.

Don't delay, order now to be part of the Group Order and qualify for the Early Bird Discount !
Please take a few minutes to watch the attached video and we look forward to hearing from you soon!
GRADUATE SERVICE DETROIT
O: 734.725.5743
4938 Dewitt Suite 200 // Canton, MI 48188
HERFF JONES // BY YOUR SIDE.